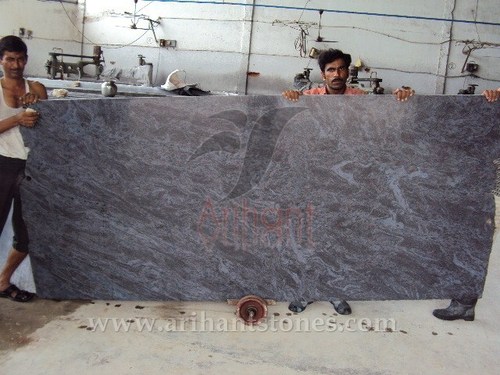 S. K. Blue Granite
Price And Quantity
400

Square Meter/Square Meters
Product Description
We are a key exporter and manufacturer of S. K. Blue Granite, which is an igneous, hard rock formed from magma. This type of stone contains Feldspar(45%), Quartz(35%) and Potassium. It is available in many colours varying from pink to dark gray or even black, which depends on its mineralogy and chemistry. In India, about 110 varieties of granite is produced by exports. We offer this S. K. Blue Granite at competitive prices as per clients demands.

Used as:
Construction stones

Background for lettering and

carvings

Background for

lettering &

carvings.

Building slabs

Surface plates

Tiles (wall and floor)

Monuments

Memorials

Kitchen Top Counters

Vases and Furniture
Attributes:
Hardness & toughness

Ability to be polished to a lustrous finish

Ability to resist weathering for centuries

Elegance & Versatility

Maintenance free

Aesthetically appealing

Amenability to cutting

Scratch-resistant

Ability to yield thin & wide slabs
Historical Applications:
Temples in South India

The Red Pyramid of Egypt

Standard Specifications

Mount Rushmore in the Black Hills of South Dakota

Accessible in varied forms viz. random slabs; calibrated, polished and beveled tiles; cut-to-size blocks; flagstone, pavers, fascia tiles and so on.

| | |
| --- | --- |
| Types | Standard Dimensions |
| Random slabs in thickness of 2 cm & 3 cm | 9"x5" and 9"x26" |
| Polished, Calibrated & Beveled Tiles | 12"x12"x3/8" and 12"x24"x1/2" |
| Cut-to-size tiles in thickness of 2 cm & 3 cm | 12" x 12" / 12" x 16" / 18" x 18" / 24" x 24" |
| Polished In-line Countertops | 26" x 84", 96", 108" |
| Polished Island Countertops | 48" x 84", 96" |
Our company also supplies granite stones in varied other sizes & specifications so as to fulfill individual client needs. Each & every granite stone is exclusive in its properties & character and therefore hence variation must be desired. The provided thickness and sizes are an estimation only and the stone pieces may vary in tone, color, texture and marking.
size specifications for SK Blue Granite Slabs Tiles Blocks
| | |
| --- | --- |
| Block Size | 60 x 180 x 60 cm & up, 120 x 240 x 120 cm & up,150 x 270 x 150 cm & up, 180 x 300 x 180 cm & up |
| Random Slab | 60 x 180 cm & up , 120 x 240 cm & up,150 x 270 cm & up , 180 x 300 cm & up. |
| Cut to Size | 30 x 30 cm, 30 x 60 cm, 40 x 40 cm,60 x 40 cm, 60 x 60 cm, 60 x90 cm.70 x 120 cm, 70 x 130 cm, 70 x 140 cm(customized size on demand) |
| Thickness | 10 mm, 12 mm, 16 mm,18 mm, 20 mm, 30 mm, 40 mm, 50 mm, 60 mm, 70 mm, 80 mm, 90 mm, 100 mm and customised |
| Tiles | 305 x 305 x 10mm, 305 x 610 x 10mm, 457 x 457 x 12mm Chamfered & Calibrated. |
| Finishes | Polished, Honed, Flamed, Sand Blasted, Antiqued, Natural, Water Jet, Leather, Brushed,Textured, Tooled or Hammered, Vein Cut and Lapotra finish.s |
Stuffing of SK Blue Granite Slabs Tiles in 20′ container
| | | | |
| --- | --- | --- | --- |
| Product | Thickness | Quantity | weight |
| Slabs | 20 mm, 30 mm | 400 – 425 Sqm, 270 – 300 Sqm | 22000 Kg, 22000 Kg |
| Cut to Size | 18 mm, 20 mm, 30 mm | 420 – 440 Sqm, 400 – 425 Sqm, 270 – 300 Sqm | 22000 Kg, 22000 Kg, 22000 Kg |
| Tiles | 10 mm | 800 – 820 Sqm | 22000 Kg |